LATEST NEWS
Please check back regularly to find out what we've been up to and where we're performing next!
Thank you lovely Ludlow!
Bella Acappella are delighted to announce that they have raised a whopping £300 for Comic Relief as a result of their sing-athon around Ludlow on Red Nose Day.
A huge thank you to everyone who supported us so generously and special thanks to The Queens, The Globe, and The Rose & Crown for welcoming us so warmly!
'Comic Relief, registered charity 326568 (England/Wales; SCO39730 (Scotland)'.
March 18 2013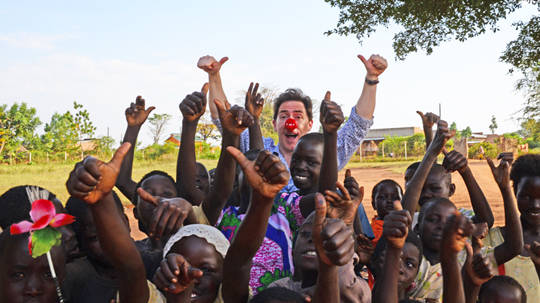 Bella Acappella perform sell-out concert!
On Friday August 31st, after months of practice and preparation, Bella Acappella, Ludlow's popular harmony chorus took to the stage at The Ludlow Brewery and wowed a sell-out crowd of over 150 people.
This was our first full concert under the directorship of Amy Evans, our hugely-talented new MD, and judging by the feedback we've had and the numerous requests for encores at the end of the evening, we can safely say our first major Concert was a total success.
Thanks to everyone who came along and especially to all our friends and family for your help, encouragement and amazing support. We really do appreciate it!
December 2011 Press Release:
Bella Acappella set to rock Christmas
shoppers at Hampton Court
Hot on the heels of their toe-tapping charity performance for the Mayor of Ludlow at The Brewery last month, a leading harmony chorus from South Shropshire is set to rock around the Christmas tree at Hampton Court near Leominster on December 10th.
Bella Acappella, a ladies chorus who specialise in singing in four-part-harmony and with no musical accompaniment have been invited to entertain visitors to this year's Christmas Fair at Hampton Court.
Musical Director, Amy Evans, leads the Ludlow-based group and she says the ladies are delighted to have been asked to bring their special style of festive cheer to Hampton Court.
She says, "We'll be singing a range of Carols that will appeal to everyone – from 'God Rest ye Merry Gentlemen' to 'Have yourself a Merry Little Christmas'. We have a few extra surprises lined up too and everyone's welcome to come and join in!"
Bella Acappella is now taking bookings for performances well into 2012 so please contact Jo Emerson on 01584 873999 for further details. Further details about the Christmas Fair can be found at www.hamptoncourt.org.uk